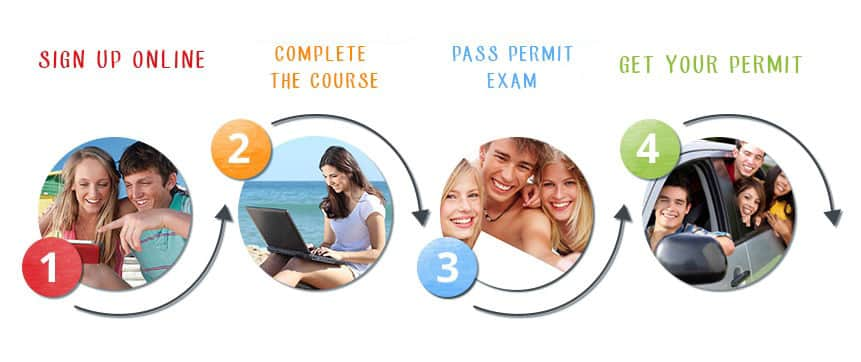 JUST A FEW EASY STEPS!
How To Get Your Florida Learner's Permit
Many teens are eager to drive as soon as possible, but the State of Florida requires all new drivers to complete a few fairly easy steps before they can get on the road for the first time. Learn more about the steps required to get your first learner's permit, then visit our Driver's License page for more information on the next step in the licensing process.
Complete an approved Traffic Law and Substance Abuse Education (TLSAE) course.
Our quick and easy 4-hour Drug & Alcohol course satisfies course requirements for new drivers of all ages.
Take your permit exam online.
Teens ages 14.5 up to 18 can take their written permit exam entirely online! This saves a lot of time and stress, since you will not need to take a permit test when you visit the DMV.
Make an appointment at the DMV.
When you're ready to apply, make sure to make an appointment with your local DHSMV office. When you go, make sure to bring all of the appropriate paperwork and documentation required for your application. For a full list of acceptable documents and a helpful guide, visit flhsmv.gov/WhatToBring.
Proof of identity. Acceptable documents include:

Certified United States birth certificate
Valid United States passport
Consular report of birth abroad
Certificate of naturalization (Form N-550 or Form N-570)
Certificate of citizenship (Form N560 or Form M-561)

Proof of Social Security Number. Acceptable documents include.

Social Security card
W-2 form (can't be handwritten)
Pay check/stub
SSA-1099
Any 1099 (can't be handwritten)

Proof of residential address.

A statement from a parent, step-parent, legal guardian or other person that the teen lives with regarding their residence and two proofs of residential address. Acceptable documents include:

Deed, mortgage, monthly mortgage statement, mortgage payment booklet or residential rental/lease agreement
Florida Voter Registration Card
Florida Vehicle Registration or Title
Florida Boat Registration or Title
Utility hook up or work order dated within 60 days of the application.
An Automobile Payment Booklet
Selective Service Card
Medical or health card with an address listed
Current homeowner's insurance policy or bill
Current automobile insurance policy or bill
An educational institution transcript form from the current school year
Professional license that is issued by a government agency in the U.S. (can't be expired)
W-2 or 1099 forms
Form DS2019 Certificate of Eligibility for Exchange Visitor (J-1) status
Utility bills that are not more than two months old
Mail from Federal, State, County or City government agencies

Completed parental consent form.
Pass Vision and Hearing Tests
These are standard tests required at the DHSMV. If you use glasses or a hearing aid, you will be able to use them during your tests, but your license may require a designation stating that you need vision or hearing assistance.
If you did not take your permit exam online, you will also need to take a written permit exam. Save time by taking it online!
Get Your Permit!
Now that you've got your permit, get practicing! After you've held your permit for one year (or turn 18, whichever comes first), you will be eligible to apply for your first Florida driver's license. Learn more about the driver license process here.