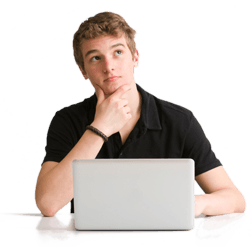 HAVE QUESTIONS?
WE'VE GOT ANSWERS!
DO YOU HAVE QUESTIONS ABOUT FLORIDA DRIVERS ED?
If you are ready to being your TLSAE course or permit test, but have questions about how it works, you've come to the right pace! Some of our most frequently asked questions, like "how long does it take?" and "is this course approved?" are answered below.
Do I need this course to get my Florida learners permit?
If you are a first time driver between 15 and 18 years old, the Florida DHSMV requires that you complete a Traffic Law and Substance Abuse Education (TLSAE) course in addition to pass a permit exam in order to receive a learner's permit. We offer exactly what you need to fulfill this requirement.
Is this a Florida DHSMV approved program?
Yes. Our online program is approved by the DHSM and fulfills the 4-hour TLSAE requirement and permit exam requirement.
How does Drug and Alcohol (TLSAE) course work? Is it like a classroom course?
Online drivers ed works similarly to a classroom course, except that you are in charge. There is no instructor lecturing or setting the pace—you get to set your own schedule and study how you want to. You'll read through the curriculum that has been enhanced with images and videos before proving your understanding with journal questions and quizzes. You'll have unlimited chances to pass each section, so we can guarantee that you will pass!
How long does the TLSAE course take to complete?
The DHSMV requires a 4-hour TLSAE course. The time requirement can be fulfilled as quickly or leisurely as you prefer by logging on and off as you please.
What if I fail a quiz or the final exam in the TLSAE course?
Don't worry! You have unlimited chances to pass each section.
Can I take my DHSMV permit exam online too?
You sure can. We offer a DHSMV approved permit exam for students who would prefer to take it from home.
How many attempts do I have for the permit exam?
You will have 1 chance to pass the learners permit exam before additional fees may be required.
Can you help me prepare for my permit exam?
That's what we are here for! Now that you know how to get your permit, we can help you do so. We offer a free practice test to help you prepare and make it simple and painless to get your Florida learners permit!
I can't wait to get started. How do I begin?
When you are ready to get started, simply head over to our Registration Page to provide the basic information we need to get you started. It only takes a few minutes!
My question wasn't answered here. What do I do?
If you have a question that wasn't answered on this page, please Contact Us at any time. Our Florida drivers ed experts are standing by to assist you at all times!