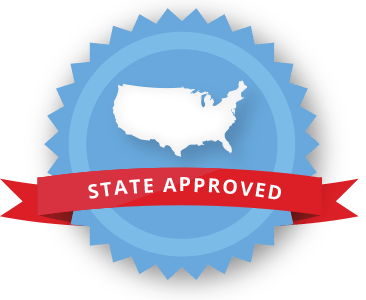 OUR COURSES MEET ALL
STATE REQUIREMENTS
All courses offered by Teen Driving Education or featured on our website are approved to meet driver ed requirements in the listed states. You will never have to worry about tracking down whether or not a site is legitimate — if it's here, it's approved!
ALL COURSES ARE STATE APPROVED
Our driver education courses are approved by the agencies authorized to approve online driver education programs for their state. Each course will state its authorizing agency. Some of our state approvals include:
California Department of Motor Vehicles (DMV)
Florida Department of Highway Safety and Motor Vehicles (DHSMV)
Indiana Bureau of Motor Vehicles (BMV)
Pennsylvania Department of Education (DOE)
AUTOMATIC REPORTING
Many states offer automatic reporting of your driver ed completion to the authorizing agency, such as the DMV or BMV. For those states, we will electronically report your completion directly to the approving agency. For other state courses, we may offer instant downloadable certificates, same-day mailing or other certificate services. Choose your state to see what options are available for your course.