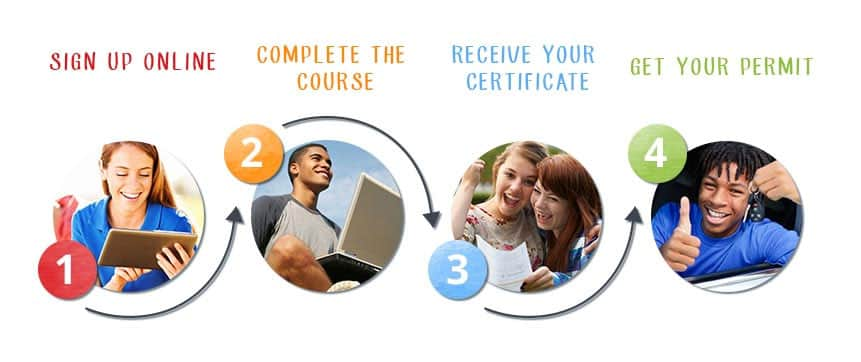 JUST 4 EASY STEPS!
HOW DRIVERS ED ONLINE WORKS
You are getting ready to enter a new, exciting time of life. Learning how to drive in a safe, responsible way is important, which is why we've made it as simple as possible to take drivers ed online!
Step 1: Sign up for your state's course
Step 2: Finish at your own pace.
Step 3: Receive your drivers ed certificate.
Step 4: Get your learners permit or license!
In just four simple steps, you will be on the way to taking your place in the driver's seat!
For more detailed information about how drivers ed works in your state, Select your State.
A Teen Driving Course Designed for You!
When you choose to complete your requirements with Teen Driver Education, you know you are in good hands. We've tailored our programs to meet your needs!
We know your time is valuable, so we created online driver education programs that allow you to set your own schedule. With our online drivers ed courses you can to read, watch, and learn at your own pace!
We know you're on a budget, so we created programs that offer the finest educational materials and are still affordable for everyone. With our teen driving programs you can be sure that you are getting the best possible value!
We know you learn better when you are engaged, so we made sure to include images, animations and videos to enhance the learning experience. With our driver education courses studying will feel a lot less like work!
We know you are new to this, so we made sure to provide all of the support you'll need to complete this process. With our teen driving courses you will have access to 24/7 support!
What You Learn in Drivers Ed Online
Before you get started, you might want to know what you'll be learning about. Each course curriculum we offer was written by traffic safety experts. The content is full of images, animations and videos to enhance the learning environment. As you work through the course, you will learn about the following topics:
Driver's License Rules
Financial Responsibility
State Traffic Laws
Vehicle Safety Equipment
Collision Avoidance
Defensive Driving Techniques
Impaired Driving
Driving Emergencies
Driving Environments
Driving in Bad Weather
Sharing the Road
Driver Attitude and Emotions
Vehicle Maintenance
Driving in Traffic
Now that you know how it works to take drivers ed online, there is nothing left to do but get started. Sign up today and you'll have your drivers ed certificate in your hands in no time!