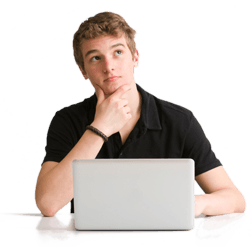 HAVE QUESTIONS?
WE'VE GOT ANSWERS!
DO YOU HAVE QUESTIONS ABOUT ONLINE DRIVERS EDUCATION?
Learning how to drive is such an exciting time of life! If you are a little unsure about how to get your permit or how to get started, you'll find answers to your questions here. Some of our most frequently asked questions, like "how long is the course?" and "is this course approved by the BMV?" are answered below to help you stop wondering and get back to the excitement!
Who should take an Indiana drivers education course?
Anyone who is interested in learning how to drive in the state of Indiana is welcome to take our course. The Indiana BMV requires that you are at least 15 years old before you may begin an Indiana drivers education program. If you meet the age requirement we encourage completion of our program, which will teach you the rules of the road and what it means to be a responsible driver.
Is this course approved by the Indiana Bureau of Motor Vehicles?
Yes, our program is approved by the Indiana BMV. Once you have completed our program and six hours of behind-the-wheel training lessons with a licensed driving school, you will be done with your Indiana driver education requirements!
What is it like to take drivers ed online? How does it work?
Taking Indiana drivers ed online is different from a classroom course, but it's an easy adjustment. Instead of listening to an instructor lecture, you will work through the lessons at your own pace. You'll read text, view images and watch videos as you go, being tested along the way to ensure comprehension. You will have unlimited opportunities to pass each exam, so we can guarantee that you will pass!
What makes online drivers ed better than a classroom course?
Taking drivers ed online has many benefits over classroom courses! Rather than driving to a location or spending even more hours at school, our Indiana online drivers ed course can be completed entirely from home or anywhere else with an internet connection. You can log on and off as you please, allowing you to finish the 30-hour course as quickly or leisurely as you'd like. Full of fun images, animations and videos, our online learning experience has proven to be more enjoyable and versatile for all learning styles.
How do I pay for the program?
You may pay for the course using a debit card or credit card. Payment can be made online during registration. The price includes everything you will need to complete the classroom portion of your Indiana driver education.
How long will it take to complete the program?
The length of the program depends on you. The Indiana BMV requires that the course cover a minimum of 30 hours, but you can complete this time requirement at your own pace. Whether you'd like to do an hour a day or try to do it all in one week, the choice is yours!
What happens if I fail a quiz or the final exam? Will I be expelled?
Absolutely not! You are given unlimited chances to pass each section and can review any portion of the program at any time. If you fail a section, you'll be allowed to review the relevant information and try again!
How do I get my certificate of completion?
We take care of sending your certificate of completion to you upon completion. Based on your selection during registration, your certificate will be delivered to your home address. Our delivery options range from standard 7-10 day delivery to an instant download.
Is this course what I need to get my Indiana learners permit?
This course is one of the steps you'll need to take to receive your Indiana learners permit, subject to the BMV age requirements. After you've graduated from our program, you will receive a certificate of completion, which you will need to enroll in the required six hours of behind-the-wheel training. Once you've completed both of these steps, you can head down to your local BMV to apply for your permit!
This Indiana drivers ed course sounds great. How do I sign-up?
Simply click here and provide basic information to get started. The process only takes a few minutes!
What should I do if I still have questions?
If you have any further questions about Indiana drivers education, please contact us at any time. Our 24/7 support team is standing by to assist you!