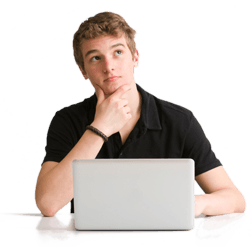 HAVE QUESTIONS?
WE'VE GOT ANSWERS!
Is this course state-approved?
Yes! Our course is Pennsylvania Department of Education-approved!
How does it take to complete driver's ed?
Our course is 30-hours long, which is the state requirement.
Do I need this course?
If you're ready for a senior license and are 17 ½ years old, then this course is a state requirement.
When do I take this course?
After you have received your junior license and are getting ready to obtain an unrestricted.
What happens if I fail the final exam?
Don't worry. You can take it as many times as you need too at no extra charge.
Does this course have quizzes?
Yes. At the end of every section there are multiple-choice quizzes to help you retain what you've learned. But they're open book, so there is no reason to stress about them.
What is driver education and why is it required?
Most states require all new drivers to complete a driver education program prior to applying for a driver's license. Our state approved driver education online course fulfills the Pennsylvania required 30 hours of classroom instruction, and will fully prepare you to pass your learner's permit test, start behind-the-wheel practice, and pass the driving skills test. When you successfully complete our online course, you will receive your official Completion Certificate to submit to the DMV when you apply for your driver's license.
How do I register for the state approved driver education online course?
Registration is quick and simple. Simply fill out all required fields and you can begin the online course immediately.
When do I get my Completion Certificate?
Once you pass the final exam for the course, you will be able to download your completion certificate immediately.
How can I pay for the online course?
You can pay for the online course by credit/debit card. Simply fill out the online registration form and you will be linked to a secure payment page to complete your transaction. The site is encrypted to make your online payment fully secure.
Are there any special computer requirements to participate in the course?
There are no required video downloads or other special computer requirements to participate in our online program. If you are on our website and can see this screen, you can enroll and complete the online course without any problems.
I have already enrolled. How do I get back into the program?
If you have already enrolled, please use your username and password to re-enter and complete the online course. If you have forgotten or lost your username and password, please call us toll-free at (855) 852-9331.