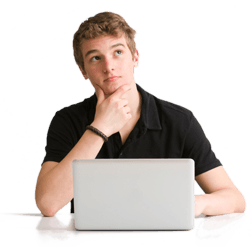 HAVE QUESTIONS?
WE'VE GOT ANSWERS!
Do I need to take this course?
Teenagers between the age of 15 ½ and 18 years old are required by the State of Nevada to take a 30-hour driver education course before applying for a permit. So if you're a teen or the parent of a teen who is ready to get a learner's license, then yep! You need to take a DMV-approved 30-hour driver education course.
What are the age requirements for this course?
You need to be at least 15 years and 6 months and 18 years-old to take this course.
Is this course DMV-approved?
Absolutely! Our course is approved by the Nevada DMV.
Does this course satisfy the Nevada driver education course requirement?
Yep! If you're looking to satisfy Nevada's 30-hour driver education requirement, then you're in the right place. Our course fulfils that driver education requirement.
How long is this course?
The state requires the course to be at least 30-hours long. However, some courses may be longer (ours isn't!). Don't worry too much, though. We've broken up the content into 19 chapters to help you through it.
How much does this course cost?
The course costs just $75.
How do I get my certificate at the end of the course?
Once you complete our course, we'll send it to you electronically to your email the same day! That's right, you can print it and head off to the DMV the day you finish our course.
Can I get my permit after finishing this course?
Once you finish our course, you're ready to take your permit exam! You'll have to take the exam at your local DMV. Don't forget to take all the appropriate documentation!
What does this course cover?
This course covers the following topics:
Safe and Defensive Driving Techniques
Traffic Laws and Violations
Sharing the Road
Judging Hazards and Managing Risks
Does this course have a final exam?
Yeah, it does. But here's the good news: you can take the final exam as many time as you need to! You can't fail our course. Just take the final exam until you pass it — at no extra cost!